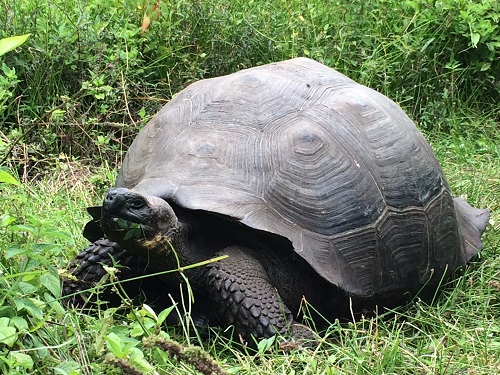 The recent identification of a new giant tortoise species on Galapagos by a Yale-led team of researchers highlights the ongoing evolution of conservation science.
By Agnes Walton, YIBS Science Communication Fellow (agnes.walton@yale.edu)
On the second voyage of the Beagle in 1835, Charles Darwin made note of the differences between giant tortoises living on adjacent islands with slightly different climates. This observation came to influence his theory of evolution and propelled the tortoises to iconic status, both as a symbol of the islands themselves and of the birth of evolutionary theory. 
Almost two hundred years later, a Yale-led team of conservation biologists has identified a new species of giant tortoise on the island of Santa Cruz in the Galapagos. Genetic analysis performed on the Eastern Santa Cruz tortoise, previously thought to be a sub-population of the more numerous Western Santa Cruz tortoise, shows that the two populations are distinct species, as genetically different as those that live on separate islands.
The ability to perform this type of genetic analysis is propelling conservation science, our understanding of evolution, and biodiversity forward. According to Dr. Linda Cayot, Science Advisor for Galapagos Conservancy, "over the last several years, the ever-growing role of genetics in guiding development of conservation strategies for Galapagos tortoises continually requires us to think in new ways."
"The story tells us something about patterns of divergence in the giant tortoises in the Galapagos and how colonization of the archipelago did not follow a simple linear model," said Dr. Gisella Caccone, who headed the research team that discovered the new giant tortoise.
Dr. Caccone is a senior research scientist in the department of ecology and evolutionary biology at Yale University and senior author of the research published Oct. 21, 2015 in the journal PLOS One. After discovering that the small population of a few hundred Eastern tortoises is a new species, she is optimistic about the potential for increased conservation efforts:
"Naming a new species elevates its status and enable more resources to be devoted to protecting its range."
Though giant tortoise populations have been devastated throughout the Galapagos Islands due to human exploitation, introduced species, and habitat degradation, the classification of a new species can direct much-needed attention to its conservation. While the larger western population on the island numbers about 2,000 and lives mostly in a protected national park, the smaller number of Eastern Santa Cruz tortoises may need more protection, which will hopefully be leveraged by its recent classification.
"Its low numbers, limited geographic range, and reduced genetic diversity make it vulnerable. As a newly recognized species, it will now receive the attention that is needed to ensure its survival," said Dr. Caccone. 
Learn More:
The Giant Tortoise Restoration Initiative, a collaborative project of the Galapagos National Park Directorate, Galapagos Conservancy, Dr. Caccone's group at Yale University, and others, is focused on the long-term restoration of all Galapagos tortoise populations to historical numbers.
The YIBS Center for Genetic Analyses of Biodiversity, directed by Dr. Caccone, fosters biodiversity science and research at Yale.