Supporting Environmental Science at Yale
The Yale Institute for Biospheric Studies (YIBS) is the umbrella environmental science center on campus. We support and inspire the environmental community at Yale through research and training, grants and fellowships, and weekly seminars and events. We use a collaborative and cross-disciplinary approach to study the entire biosphere: from molecules to landscapes, and everything in between.
Introducing YIBS from YIBS on Vimeo.
---
Research at YIBS centers upon eight research themes, and we support a number of research centers and programs on campus. We also provide fellowships and funding opportunities for members of the Yale community and for outside scholars.
YIBS is collaboratively managed by a permanent staff along with our multidisciplinary Faculty Council from schools and departments including Forestry & Environmental Studies, Public Health, Engineering, Ecology & Evolutionary Biology, Geology & Geophysics, Anthropology, and Molecular, Cellular & Developmental Biology. We are advised by an External Advisory Board of environmental professionals.
YIBS
was founded in May 1990 with a generous endowment from Mr. Edward P. Bass, Yale College '67, Architecture '72, and Hon. '01.
For more information about past YIBS efforts, you can view past YIBS Newsletters and YIBS Annual Reports.
---
Applications and nominations for the 2019 Donnelley Postdoctoral Environmental Fellowship program are now open.  To apply, nominate a candidate, or for general information about the application process, please visit the Donnelley Postdoctoral Environmental Fellowship page.
---
Explore YIBS Summer Research
---
Paleontologist & YIBS Donnelley Fellow Erin Saupe
YIBS Donnelley Fellow | Dr. Erin Saupe from YIBS on Vimeo.
Evolutionary biologist & former YIBS Donnelley Fellow Peter Cowman
YIBS Donnelley Fellow | Dr. Peter Cowman from YIBS on Vimeo.
---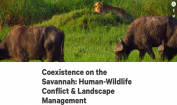 Coexistence on the Savannah: Human-Wildlife Conflict and Landscape Management
(featuring Mary Burak)
Managing Expectations at High Elevations
(featuring Julia Monk)