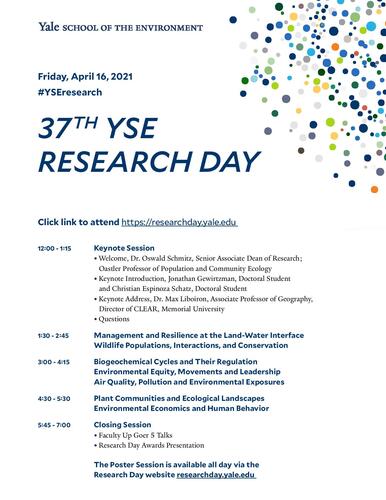 Dear YIBS Community,
"We write to draw your attention to our upcoming 37th Annual YSE Research Day taking place this Friday, April 16th beginning at 12:00 (noon).  This is an important event for our School, highlighting the research of our doctoral students, post-docs, and all of our graduating MESc and MFS students – we hope that you all will join us and celebrate their terrific contributions!  
To open the event we will welcome Dr. Max Liboiron from Memorial University who will offer a keynote address titled, "Pollution and Colonialism."  You can find the full agenda, presenter abstracts, and details for connecting to each session on the Research Day website (final program pdf and zoom links forthcoming).  We will have moderated question and answer opportunities at the end of each student session, and look forward to engaging you all in a robust discussion around these great projects.  Finally, we are offering Grub Hub gift certificates for use during the Closing Session at 5:45 (Up Goer 5 faculty talks and Award Presentations) – sign up here if you are interested in receiving one.  Sign-ups must be received by midnight on Wednesday, April 14." 
We look forward to welcoming you all to Research Day on Friday!
The YSE Research Day Planning Committee
Co-Chairs: Jonathan Gewirtzman and Christian Espinosa Schatz
Members: Oswald Schmitz, Sara Smiley Smith, Elisabeth Barsa, Mike Slattery, Jenn Lawlor, Angela Chen-Wolf, and Melanie Quigley