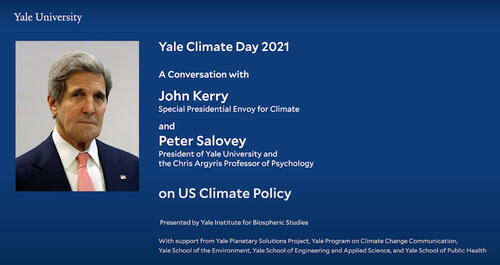 "Join Special Presidential Envoy for Climate John Kerry and Yale President Peter Salovey as they discuss climate change and US climate policy. The conversation focused on the goals for the UN Climate Change Conference (COP26) in Glasglow in November 2021, the importance of private capital and the momentum of the marketplace, what students and young people can do to influence climate policy and the importance of student activism for the climate movement, how to bridge political divides, and where to focus research at Yale with the recent gift from Fedex to fund a new center focused on developing natural solutions for reducing atmospheric carbon as part of Yale's broader Planetary Solutions Project." 
Climate Day is presented by Yale Institute for Biospheric Studies in partnership with Yale Planetary Solutions Project, Yale Program on Climate Change Communication, Yale School of the Environment, Yale School of Engineering and Applied Science, Yale School of Public Health.
If you were unable to attend live, please click here to view a recording of the discussion.