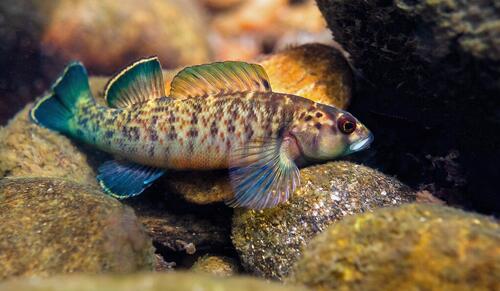 The gradual erosion of layers of rock by rivers flowing through the Appalachian Mountains generates biodiversity of freshwater fish species, suggests a new Yale-led study that offers insight into the causes of species richness in the ancient mountain range.
Researchers have previously associated high biodiversity in mountain ranges, including the Andes and Himalaya, with tectonic uplift — the shifting of plates in the Earth's crust that forms mountains, plateaus, and other geologic structures — triggering environmental changes that create conditions ripe for species diversification. But this explanation does not account for the high biodiversity found in older mountain ranges, such as the species-rich Appalachians, where tectonic uplift ceased hundreds of millions of years ago.
For the new study, published May 26 in the journal Science, researchers analyzed populations of greenfin darters, Nothonotus chlorobranchius, a fish species only found in the upper Tennessee River system in the southern Appalachians, and the river basin's underlying geology. They found that river water has gradually eroded a top layer of metamorphic rock in portions of the upper Tennessee River basin, exposing softer sedimentary rock that acts as a barrier, isolating populations of the greenfin darter in river channels still flowing over metamorphic rock. As with the finch populations observed by Charles Darwin on the Galapagos Islands, such geographic isolation prevents the greenfin darters from breeding across populations, said Maya F. Stokes, the paper's lead author, who conducted the research while a YIBS Gaylord Donnelley postdoctoral researcher in Yale's Department of Ecology and Evolutionary Biology. This, she said, sets the stage for them to evolve separately from each other. For more information, click here for an article published by Yale News.