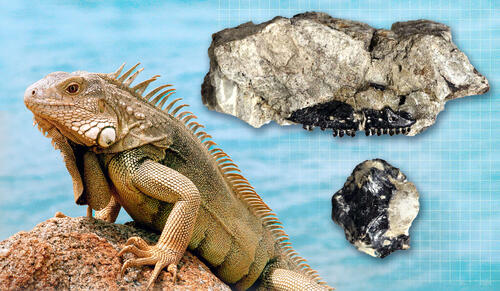 Yale researchers have identified the oldest-known, definitive members of the lizard crown group that includes all living lizards and their closest extinct relatives. The two new species, Eoscincus ornatus and Microteras borealis, fill important gaps in the fossil record and offer tantalizing clues about the complexity and geographic distribution of lizard evolution.
The new lizard "kings" are described in a study published in Nature Communications. "This helps us time out the ages of the major living lizard and snake groups, as well as when their key anatomical features originated," said Chase Brownstein, first author of the study. Brownstein, a Yale senior, collaborated on the study with Yale paleontologists (YIBS Affiliates), Jacques Gauthier and Bhart-Anjan S. Bhullar. 
Gauthier is a professor of Earth and planetary sciences in Yale's Faculty of Arts and Science and curator at the Yale Peabody Museum of Natural History. Bhullar is an associate professor of Earth & planetary sciences and an associate curator at the Peabody Museum. Funding for the research came, in part, from the National Science Foundation and the Yale Institute for Biospheric Studies (YIBS). For more information, click here for an article published by YaleNews.