By Miranda Sinnott-Armstrong
Beautiful photographs of the natural world not only inspire the next generation of nature lovers, but can also be useful for documenting species diversity, illustrating variation within and between species, and understanding phenotypic traits.  With the support of YIBS and the EEB department, the inaugural Yale Nature Photography Workshop met in August of 2016 to explore how nature photography could be used for both visual inspiration and scientific purposes. Led by Rick Cech, Yale graduate, author, and nature photographer, the workshop met in three sessions.  We discussed principles of nature photography, visited the Kellogg Environmental Center to take photos in the field, and finally critiqued our images and discussed image processing.  The graduate student participants came from many departments and programs across Yale, including FES, EEB, Chemistry, and computational biology.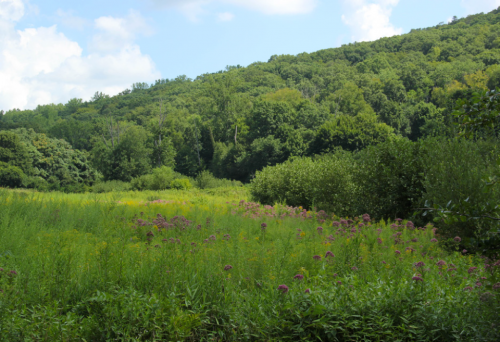 A field at Kellogg Environmental Center, Derby, CT. Photo credit: Miranda Sinnott-Armstrong
 
Kellogg Environmental Center in Derby, CT, harbors old fields and small ponds a half-hour drive from Yale's campus.  In late summer, these fields are full of butterflies, beetles, flowers, and birds hiding along the forest edge.  We sought to capture that diversity in our photos, and to use our photos to tell stories about the natural world.  For instance, small milkweed bugs take their name from their association with milkweed, an important plant in the monarch butterfly life cycle.  In the photo here they can be seen on an unopened pod of a milkweed plant.  The bright red colors of the small milkweed bug suggest toxicity, and a number of other insects have evolved similar-looking markings:  the large milkweed bug, the milkweed beetle, the false milkweed bug, and the box elder bug, to name a few.  All of this, and more, can be understood in just one photo!
Nature photography can not only show the beauty of nature, but also allow us to learn about and better understand processes that shape the natural world.  Thanks to Rick Cech and the participants of the Nature Photography Workshop for a fun time, a great learning experience, and some wonderful photos! See more photos from the workshop here.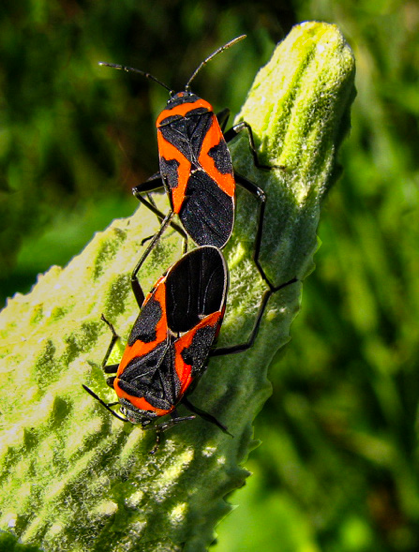 Small milkweed bugs on an unopened milkweed pod. Photo credit: Jennifer Gaines

Participants of the field sessions. Left to right: Ana Fanton-Borges, Xinyue Luo, Jennifer Gaines, Miranda Sinnott-Armstrong, Sarah Federman, Rick Cech, Larry Bowman. Photo credit: Rick Cech