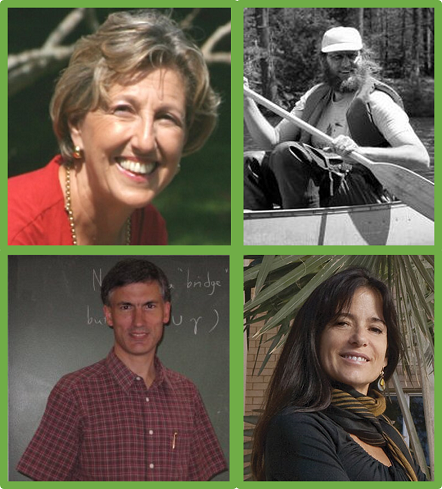 YIBS is delighted to welcome four new Bass Distinguished Visiting Environmental Scholars to Yale during Spring 2016.
Aaron Ellison
Dr. Ellison is a Senior Research Fellow in Ecology at Harvard Forest and Adjunct Research Professor in the departments of Biology and Environmental Conservation at the University of Massachusetts at Amherst. Recipient of numerous awards for research and teaching, Dr. Ellison is the co-author or author of more than 160 papers as well as a Fellow of the Ecological Society of America. Returning to Yale more than three decades after he earned his B.A. in East Asian Philosophy here, Ellison is teaching an undergraduate course in an Environmental Studies and conducting research on how portrayals and perceptions of landscapes influence conservation decision-making. Dr. Ellison is also finishing two books, Stepping in the same river twice: replication in biological research (to be published by Yale University Press), and Big Data: design and analysis of large-scale, long-term studies in ecology and environmental science (to be published by Sinauer Associates).
Ana Magdalena Hurtado
Professor Hurtado comes to Yale and YIBS as an evolutionary anthropologist from Arizona State University in Tempe, Arizona, where she founded the first anthropological Global Health program. Her work focuses on mortality reduction mechanisms in humans with an emphasis on innate immunity. This has led her to conduct decades of fieldwork among foraging populations where she has studied sexual and reproductive status divisions of labor, cooperative breeding, foraging efficiency, diet, time allocation and development, menopause, human life history, and disease phenotypes. Her published work includes Aché Life History, co-authored with Kim Hill, Lost Paradises and the Ethics of Research and Publication (with Francisco Salzano), and papers on Th-2 dominant immunity (with her mother, Inés Hurtado Arenas). She was inducted as a Fellow of the American Academy of Arts and Sciences in 2012.
Julia Marton-Lefèvre
Julia
Marton-Lefèvre
is the Edward Bass Distinguished Visiting Fellow in Environment at Yale University. She is perhaps best known for her role at the International Union for the Conservation of Nature (
IUCN
), where she was Director General from 2007 to 2015.
Marton
-
Lefèvre
has made a huge range of contributions to the environmental field as an academic and environmentalist throughout her career, for which she has been
recognized
with Fellowship in the World Academy of Arts and Sciences. She also serves as a member of a number of boards, councils and committees for NGOs, international, private sector and academic organizations. While at Yale,
Marton
-
Lefèvre
intends to involve Yale students and the environmental community in formal and informal ways, inspiring them to take on leadership roles so that crucial environmental concerns are kept high on policy-makers' agendas and sharing her experiences and expertise. She will also complete the writing of a book describing the lessons learned in her international scientific and environmental career with the tentative title 
Global Citizen: A Life Crossing Boundaries
.  
Grae Worster
Dr. Worster joins YIBS from Trinity College, Cambridge, where he is a College Senior Lecturer in Mathematics for Natural Sciences and researches fluid dynamics in the Department of Applied Mathematics and Theoretical Physics. Dr. Worster's research explores solidification and fluid flows—combining mathematics with physical reasoning. Dr. Worster edits the Journal of Fluid Mechanics and has authored or co-authored more than 180 scientific articles. While Dr. Worster is at Yale he is investigating the solidification of colloidal suspensions, which has applications in frost heaves and the fabrication of micro-porous materials, as well as the flow through poor-elastic media, which has applications in hydraulic fracturing. Dr. Worster also hopes to find time to develop ideas about double-diffusive convection, which is relevant  to the transport of heat and salt in the oceans. He looks forward to collaborating and exchanging ideas with Yale researchers.
Learn more about the Bass Visiting Environmental Scholars Program at YIBS.