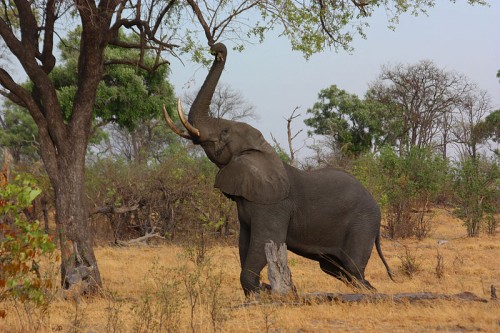 African elephant (Loxodonta africana) populations continue to decline rapidly due to ivory poaching. A global debate within the conservation community has resulted in little progress on the policy front: some believe ivory trade should be banned, whereas others consider trade should be regulated to incentivize and fund elephant conservation. The result has been a deadlock on ivory policy that is ultimately hampering the greater goal of protecting elephants.
A recent article published in Science, "Breaking the deadlock on ivory", offers a path forward. The authors translate conflict resolution models that have been successful in other areas (including climate change policy) into a framework that can be used by countries with wild elephant populations to develop workable solutions in a less confrontational manner. By mapping the stakeholders and applying iterative processes that recognize different value systems, the many political, socio-cultural, and ethical points of view can be navigated in a more productive manner.
Read the full article: Biggs, D., Holden, M. H., Braczkowski, A., Cook, C. N., Milner-Gulland, E. J., Phelps, J., … & Allan, J. (2017). Breaking the deadlock on ivory. Science, 358(6369), 1378-1381.
---
Gao Yufang, PhD student at the Yale School of Forestry & Environmental Studies / Yale Department of Anthropology and YIBS Grantee, is one of the authors of this paper. He has worked on stakeholder mapping and human-wildlife interactions, specifically in relation to China's involvement in the ivory trade. Given the intricate system of ivory demand/supply, Gao considers all countries should work together to approach policies related to ivory and elephant conservation in a holistic manner.
More detalis of Gao's work are featured in a recent interview with the Yale School of Forestry & Environmental Studies: Solving the Ivory Deadlock.