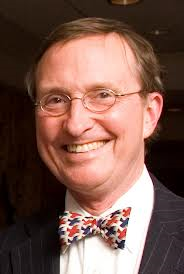 Dr. Thomas Lovejoy, The Yale Institute for Biospheric Studies External Advisory Board member and former Chair of this board, has been awarded the Woodrow Wilson Award for Public Service.  Dr. Lovejoy is the eleventh recipient of this award, being honored for his outstanding environmental work on biodiversity, climate change in Brazil and elsewhere, and is the first scientist to be so recognized.  He joins an illustrious list of recipients - Hilary Clinton, James Baker, Colin and Alma Powell, Janet Napolitano, Condoleeza Rice, William H. Gates, Sr.
As noted by the Woodrow Wilson Center, "In every nation there are great men and women who have, by the strength of their character and their own accomplishments, become ingrained in the citizenry's consciousness.  They are thinkers, doers and risk-takers who have overcome adversity, found success, and stood up for the common good.  We label them public servants and corporate citizens-in essence, they are leaders.  Their legacies reflect the values of the United States' 28th President, Woodrow Wilson, a leader who believed that "There is no higher religion than human service.  To work for the common good is the greatest creed."
The Woodrow Wilson Award for Public Service is given to individuals who have served with distinction in public life and have shown a special commitment to seeking out informed opinions and thoughtful views.  Recipients of this award share Woodrow Wilson's steadfast belief in public discourse, scholarship, and the extension of the benefits of knowledge in the United States and around the world.  They have poured their time, talents and resources into improving the lives and futures of others and in so doing have inspired us all.  Honorees include policymakers, philanthropists, scientists, civic and religious leaders, and celebrities who have excelled in their fields while leaving a deep, positive impact on their communities and the world at large."
We at Yale congratulate Dr. Lovejoy on receiving this award, and for his outstanding commitment to public service in the field of environmental concerns, and especially are grateful for and thank him for his ongoing service to Yale and as a member of the Yale Institute for Biosopheric Studies (YIBS) External Advisory Board and as a member of the Leadership Council of both the Yale School of Forestry & Environmental Studies and the Yale Peabody Museum of Natural History.