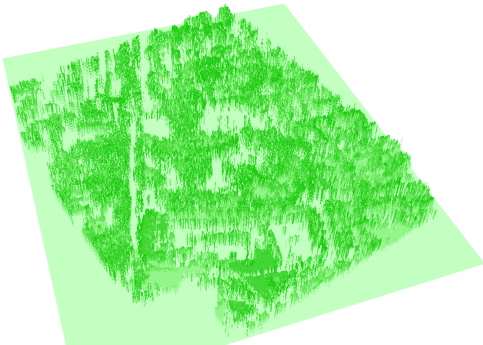 Unmanned aerial systems take the measure of Yale in a workshop with Professor Xuhui Lee.
By Juliana Hanle, YIBS Science Communication Fellow (juliana.hanle@yale.edu)
A drone fell in hiccups. It slid across the field, bounced twice, and finally stopped in the far brush beyond a set of bleachers. As descents go, this one was relatively smooth. "Once I spent three days trying to climb a tree to get it back," the craft's operator, Joseph Muhlhausen, told a small group of students.
The students belonged to a course on unmanned aerial systems (UAS) run by Xuhui Lee, Sara Shallenberger Brown Professor of Meteorology, and Larry Bonneau, research associate in the Department of Geology and Geophysics and manager of the Yale Center for Earth Observation (YCEO) last fall. The workshop marked a first step in integrating drones into research and courses at Yale. Lee anticipates that it was just the beginning. Drones are coming to Yale.
Muhlhausen peeled up a neon patch in the center of the craft, most of which was made of a boomerang-shaped elbow of Styrofoam, and pulled out a digital camera. The device, held in place by a box Muhlhausen had 3D printed himself, had snapped photos as the craft repeatedly swept a figure eight across the Hamden field. The snapshots contained the class' data.
YCEO made these photos fit together and spring into three dimensions. Back at the center's lab, the class manipulated the Brooksvale park pictures to create first a photo mosaic, then, last, a 3D surface model. Software fit the photos together at "tie points," landmarks like trees. It used the changes between each representation of an object to create a model of that thing—again, mostly trees in the case of Hamden. The software essentially replicated what our eyes do every day. It calculated depth. But unlike eyes, the software held on to that depth, retaining it as data.
The potential for drones in remote sensing is immense, as the students learned. Advantages of UAS technology over satellite remote sensing, Professor Lee explained, include the fine detail they can collect. The surface model of Brooksvale is so precise that it begins to capture the textures of individual trees. This detail is data-heavy. Simply making a mosaic can take a day of non-stop computing, he said. "We had to increase the memory of one workstation in the YCEO lab by several folds."
Another plus of using drones is the convenience. "You can do it anytime you want," Lee added. In contrast, researchers have to wait for satellites: for a unit to be in the right place above the planet, for it to transmit data.
The UAS course also considered drones in a variety of political, commercial, and academic purposes. Guest lecturers included the man at the drone controls in Brooksvale, Joseph Muhlhausen. In 2014 Muhlhausen founded CielMap, a company that specializes in aerial imaging and mapping for sustainable development and environmental monitoring. As a remote sensing specialist who has worked with the UN and the World Bank, Muhlhausen illustrated UAS consulting capabilities.
These perspectives were particularly important to students who came to the course nursing seeds of business concepts. Jiani Yang, a second year Master of Environmental Management candidate at F&ES, said that she hopes to apply her new knowledge towards creating a drone-generated database of pollution conditions in areas of China and India. It would generate daily transportation recommendations. As the laws stand, Yang said, this use of drones in China is not possible—but she is learning for the future.
A School of Management student, Raul Madriz, is interested in using drones for precision agriculture. Madriz thinks drone sensing can identify the needs of small pockets of cultivated land. He thinks in terms of cost and benefit. "What could be the return on investment?" Madriz asked. Are drones worth specific organizations' time and money?
Not all interest is business driven, however. While Lee has not yet used drones in his own research, one of his students is exploring mapping surface albedo, an expression of reflectance, with UAS. Lee said that he intends to offer the workshop again. "We will need to buy our own drones," he said. Then, students will fly on their own.
Decades ago satellite technology revolutionized the collection and presentation of knowledge about the earth's surface. Today, drones are still expanding these practices. Lee and his students have just gotten started.
Learn More:
Yale Center for Earth Observation (YCEO)