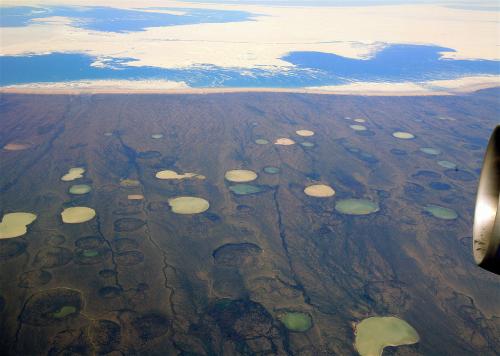 On Thursday evening, YIBS launched the Center for Biodiversity and Global Change with its first seminar. Mark Urban, MESc '01 PhD '06, Associate Professor in Ecology and Evolutionary Biology at the University of Connecticut, delivered a mandate for science: find the species at risk of extinction under climate change.
Urban opened the talk with a story of his experience in the warmest year on record at a field site in Alaska. The Arctic was supposed to still be frozen in May of 2015. "We came over those mountains and the whole landscape was almost entirely free of snow, the rivers were free of ice."
Global change creates a demand and opportunity for science. "The critical part for us, as biologists, is to figure out what we have, to get it through the heat age, and to be able to protect those species that are critical for our economy, our culture, and our health," Urban told the gathering.
Dr. Urban has conducted a meta-analysis of how species extinction will vary under different climate change scenarios—versions of what he calls the coming heat age. If the world continues "business as usual" then we could lose 16 percent of Earth's species. If the world holds to the Paris Agreement, then we could potentially limit species loss to 3 percent. And that, Urban estimated, is still about 200,000 species.
Identifying species at risk, and which among those can be saved, is the type of task addressed by the large-scale, big data analysis that will be taken on by the new Center for Biodiversity and Global Change. The center builds on the work of the former YIBS program in Spatial Biodiversity Science and Conservation. It is directed by Dr. Walter Jetz, Associate Professor in Ecology and Evolutionary Biology at Yale.