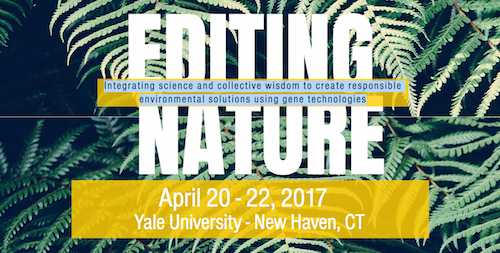 The first Editing Nature Summit will take place on April 20-22, 2017, at Yale University.
About the Summit
DNA is the basic building block of life. It is shared by all living things, supplying commonality between single cell bacteria, oak trees, and elephants; DNA connects us with nature. With the recent advent of a new technology called CRISPR, we can now alter that very sequence of life, efficiently and inexpensively, through a process called gene editing. The potential of this technology is incredible; using gene editing we could create drought-resistant trees to fight climate change, eradicate malaria by altering mosquito DNA, and engineer new biodegradable materials for a truly sustainable future. But, without careful consideration and foresight, gene editing could also irreversibly destroy ecosystems and drastically transform the natural world as we know it.
Rooted in a deep respect for science, our planet and each other, the Editing Nature Summit seeks to integrate science and wisdom to honor the complexity of gene editing and the networks it could affect. Pioneering a new model based on inclusivity and transparency, Editing Nature will foster dialogue that spans disciplines and viewpoints to explore this important issue. A series of public talks given by thought leaders from ecology, genetics, public policy, ethics, journalism, engineering and architecture will broaden our perspectives and spur conversation, while intimate round table discussions will delve into the potential of gene editing and seek to steer its responsible use. The mission of the Editing Nature Summit is to cultivate creativity from diversity and innovate thoughtful solutions for our planet.
You are cordially invited to join the conversation! REGISTER HERE