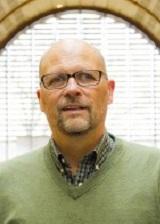 Director, Yale Institute for Biospheric Studies
Oastler Professor of Population and Community Ecology
Professor Oswald Schmitz has directed the Yale Institute for Biospheric Studies since 2011. He is the Oastler Professor of Population and Community Ecology at the Yale School of Forestry and Environmental Studies, and his research examines the dynamics and structure of terrestrial food webs. His specific focus is on plant-herbivore interactions and how they are shaped by carnivores and soil-nutrient levels, both at the level of herbivore foraging ecology and plant-herbivore population dynamics. He also examines how natural systems are resistant and resilient to natural and human-induced disturbances, and his approach involves developing mathematical theories of species interactions in food webs and testing these theories through field experiments. This work deals with a variety of ecosystems and herbivore species, ranging from moose deer and snowshoe hare in northern Canadian forests to insects in New England old-field ecosystems.
Toya Sealy Cotto
Senior Administrative Assistant, Yale Institute for Biospheric Studies (YIBS) and the Yale College Environmental Studies Program
Peabody Museum, 213A, New Haven, CT
Toya joined Yale University in November of 2007 as a Financial Assistant for the Shared Science Service Branch (SSSB) where she served as a Financial Assistant for the SSSB and as an Administrative Assistant of travel for Professor Michael Snyder in the Department of Molecular, Cellular and Developmental Biology. She then worked as a floater, assisting in various departments on Science Hill including YIBS. YIBS invited her to permanently join their staff in the fall of 2009, which has offered Toya the opportunity to learn new skills in addition to financial reporting. Toya is happy to now be working with Os Schmitz, who was appointed YIBS Director in July of 2011.
In June 2010, Toya also took on duties for the Environmental Studies Program in Yale College, which is also under the YIBS organization. Toya can be reached at latoya.sealycotto@yale.edu.
Mailing Address:
Yale Institute for Biospheric Studies 
PO Box 208118
New Haven, CT 06520-8118
Phone: (203) 432-9857
Fax: (203) 432-9927